SPOILER WARNING: Plot details follow. Caution is advised!
Valentine Morgenstern was a powerful Shadowhunter and the leader of the Circle.
Biography
Early life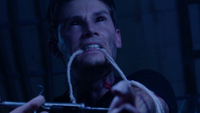 Valentine was the husband of Jocelyn Fairchild. Under his leadership, he and his friends formed the Circle. Though some of his friends and followers were not initially aware, his ultimate goal was the eradication of demons and Downworlders alike from the world. In his desperation to overpower Downworlders, Valentine began to experiment with Downworlder and demon blood. He injected himself with both, while he injected his first unborn child with demon blood as well while still in Jocelyn's womb. When the child was born, they named him Jonathan Christopher.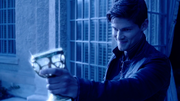 Eventually, Jocelyn grew tired of trying to help Valentine and his growing hunger for power. She and Luke plotted together, and, to halt Valentine's plans, Jocelyn took the stolen Mortal Cup and went into hiding.
Valentine then faked his and Jonathan's deaths, setting their home on fire with two bodies in their place. This let everyone believe that he'd perished then when, in fact, Valentine took on the identity of Michael Wayland and raised a young boy as Michael's son, telling him that he was Jonathan Christopher Wayland. Apparently, when his enemies began to close in,[1] Valentine once again faked his death as Michael—"dying" right in front of ten-year-old Jace's eyes.[2] He arranged to have him sent to the Lightwoods, knowing he would be cared for with them.[1]
Unbeknownst to him, Jocelyn had been pregnant and had given birth to their daughter, whom she named Clarissa and raised in the mundane world—in New York.
Hunt for the Cup
Valentine remained in hiding for almost two decades while continuing to amass his numbers and experiment on Downworlders. He and his men scoured the world for Jocelyn and the Cup. It was only that they found a lead when some of his followers saw Clary at a club in New York, and they recognized Jocelyn in her and found that she was alive. He ordered his men to bring Jocelyn back unharmed and with the Cup, but Jocelyn drank a potion that put her in a state of deep sleep, preventing him from extracting the location of the Cup from her, frustrating him. During this time, it became evident that Valentine still loved Jocelyn, in his own way. When he found out about Jocelyn's daughter, he told his men to bring her to him.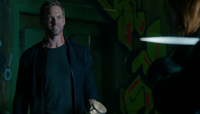 Valentine ordered his men to continue searching for the Cup, with their biggest lead being Clary,[3] and their spy within the Institute: former Circle member Hodge Starkweather.[4] Shortly after the Cup was finally retrieved by Clary and the Clave,[5] Valentine once again took on the form of Michael Wayland, as part of his plan to get the Cup and get close to Jace once more. As Michael, he reconnected with Jace; he told Jace that he'd been a prisoner held by Valentine since he seemingly died in front of him. He then offered to help them look for Jocelyn.
During a battle when they were surrounded by demons, Valentine tricked Clary into handing him the Cup. Once he had it in his hands, he cut his shape-shifting rune and revealed himself as Valentine to Clary and Jace. When Valentine tried to use the Cup to control the demons, Clary revealed that the Cup in his hands was fake and glamoured while the real one was still with her. He then told Jace that he was his father, and that he had been glamoured as Michael all along. After taunting Jace and Clary of being unable to kill him, he left through a Portal, leaving them with Jocelyn's still unconscious body and the Cup.[2]
Shadowhunter army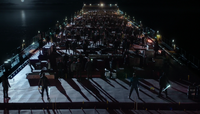 Hodge eventually made his move and stole the Cup for him,[4] in exchange for breaking his Punishment rune. Once he had the Cup, Valentine began letting his men drink from the Cup, making an army of the new breed of Shadowhunters. He was also able to blackmail Jace into joining him by threatening the lives of his friends.[6]
Not all of his first batch of followers survived drinking from the Cup, however, and their next move was gathering stronger men to turn.[7] At the same time, Valentine continued trying to get Jace to embrace his beliefs. He told Jace that he had demon blood in him and tried to convince him that, because of the demon blood, he had an inclination to kill and would always want his "sister" the way he can't have her.[1] When this continued to alienate Jace, he resorted to kidnapping Clary and brainwashing her through Dot's magic to force her to convince Jace of his role in his plans. This still failed, and eventually, both his children escaped. After they left the ship,[7] he and his men abandoned it.[8]
Valentine then stole the Soul-Sword from the City of Bones,[9] intending to use it to annihilate all demon-blooded creatures—demons and Downworlders alike.[10] He first planned to use the angel Ithuriel to activate the Sword, but when Clary and Jace rescued the angel,[11] Valentine resorted to using his children.
Under the impression that Jace had demon blood, Jace planned to touch the Soul-Sword to destroy it, just as Valentine had expected he would. But because Jace actually had angel blood,he accidentally activated it, allowing Valentine to wield it in the Institute, killing all the Downnworlders, except the suddenly immune Simon, inside. He planned to immediately activate the Sword upon stepping foot outside the Institute to kill all demon-blooded creatures but was stopped by Luke, then Jace. Valentine, under the influence of the Sword, admitted to Jace that he was not his son. After a brief scuffle, he was knocked out and taken into the Institute's custody.[12]
Imprisoned
Valentine was consistently interrogated by Imogen for the whereabouts of the Mortal Cup. Despite being tortured, Valentine refused to give up its location.
Used as bait for Azazel who was looking for the Cup, Valentine gained the opportunity for escape when Azazel switched his and Magnus's minds,[13] and thus their bodies—Valentine was able to go out and about as Magnus, while Magnus was imprisoned as him. Valentine was disgusted to be inside a warlock's body and demanded his body back from the Institute, this time using Jace, who'd trusted him while posing as Magnus, to bargain. His plan backfired when Magnus and the Shadowhunters were able to fight back against Valentine after he'd switched them back.[14]
Eventually, Valentine's transfer to Idris was approved. He was broken out during the transfer, however, by a plan set up by Jonathan who'd returned from Edom.[15]
Mortal Instruments
Valentine was able to convince the resentful Jonathan to work with him again instead of taking revenge on him.[16] Because Jonathan had taken the Soul-Sword before his arrest,[12] Valentine now had two of the three Mortal Instruments,[16] though he was no longer able to use the sword for its original, destructive purpose because of the rune Clary marked it with.[12][17]
With Malachi Dieudonné as his spy, he eventually learned that the third Mortal Instrument, the Mortal Mirror, was in fact Lake Lyn.[18] After making a deal with the Seelie Queen,[19] Valentine was able to escape New York and travel to Idris. At the lake, Valentine waited and hid, anticipating Jace and Clary's arrival. He then killed Jace, knowing he had the power to stop him. He then summoned Raziel, but before he could tell the angel his wish, he was attacked and killed by Clary.[18]
Postmortem
When Lilith needed his flesh to resurrect Jonathan, she had Jace dig up his grave.[20] To find out why Lilith would want his body dug up, Consul Jia Penhallow had Iris try to resurrect him, but the warlock refused. Clary volunteered, wanting to find out what Lilith needed as well. She successfully resurrected him with a Necromancy rune. Jia expressed her intent to interrogate him and to return Clary to the Culling courtyard, but Valentine insisted that he would only talk to Clary.
Valentine told Clary how impressed he was of her abilities, telling her that she was his greatest creation, which Clary rejected. With some urging, he revealed to her that Lilith likely wanted his flesh to bring Jonathan back from the dead. When Jia, having heard their conversation, returned with the guards and ordered them to kill Valentine and burn his body, Valentine broke free of his restraints and held Jia hostage as he made is escape. When Clary managed to get Jia away from Valentine, a guard shot him with an arrow, making Valentine realize that, being dead, he had become impossible to kill. He fought off the guards and made his way to the courtyard to rejoin the Circle members set for execution and reignited his Circle rune.
An ensuing battle against more guards left just Valentine, killing several of his followers. Valentine went to the gate and attempted to open it, but it was impervious to runes. Clary arrived and told him that she wanted to join him. She drew a rune that managed to open the doors then used her stele to deactivate the Necromancy rune on his chest, killing him. The Owl later arrived to take his flesh and pulled out a rib,[21] which he later gave to Lilith, who used it in the ritual for Jonathan's resurrection.[22]
Personality and traits
Valentine was brilliant, cunning, and manipulative. His stoic, charming, and confident presence allowed him control over his many followers. To get what he wanted, Valentine executed anyone in his way, never thinking twice about it.[23]
Appearances
Trivia
References
Community content is available under
CC-BY-SA
unless otherwise noted.