SPOILER WARNING: Plot details follow. Caution is advised!
Stephen Herondale was a Shadowhunter, the son of Imogen Herondale and biological father of Jace Herondale.
History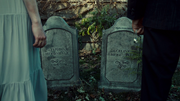 Stephen had a child with his wife, Céline. Upon his death, Céline apparently committed suicide, after which their son was taken by Valentine Morgenstern and raised as his own,[1] posing as Michael Wayland.[2] Valentine gave Stephen and Céline's son the name Jonathan Christopher—the same as his real son's—and later nicknamed Jace.[3] It would only be over two decades later before Valentine revealed the truth about their son's heritage.[1]
Appearances
References