SPOILER WARNING: Plot details follow. Caution is advised!
Simon's boathouse is the boathouse outside Jade Wolf, on the docks of Red Hook, Brooklyn in New York City. Previously used as a supply room for the New York werewolf pack, it became home for Simon Lewis for a time.
History
The boathouse was previously used as a supply room for the New York pack and as a boat basin for the rental boats on the dock.
In 2016, when Luke Garroway welcomed Simon and let him stay in the Jade Wolf, the werewolf residents objected and threw him into the boat house, forcing the homeless vampire to spend the night there.[1] As time went on without anywhere to stay, Simon was forced to sleep in one of the canoes for a time,[1][2][3][4] until he was able to move in his bed.[5] Simon once left and tried to move back to his house, but when his vampirism foiled this attempt, he returned.[2]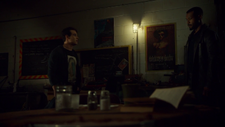 With the amount of time Simon had to spend in the boat house, he cleaned the place up and moved some things around, clearing or putting aside junk, and slowly began to move his own things in, making it his own—more homey and comfortable, with a bed, chairs and a table, tools, posters, and his musical instruments.[6]
Eventually, the werewolves grew even more disturbed by his presence and proximity to them and asked Luke to kick him out from the boat house as well. Simon made no objections and said he'd start moving his things out as soon as possible.[7]
Gallery
Progression:
Exterior:
---
References
Community content is available under
CC-BY-SA
unless otherwise noted.