SPOILER WARNING: Plot details follow. Caution is advised!
"
Simon, I wasn't there for you once. And I will never not be there for you again. I'm your big sister and I'm always gonna love you. Warts, fangs and all.
"
Rebecca Lewis is the older sister of Simon Lewis and only daughter of Elaine.
Biography
Early life
When Rebecca and Simon's father died, Elaine became an alcoholic, which Rebecca found herself having to deal with.[2]
At one point, Rebecca did volunteer work at a hospital.[2]
Problems
"
I know that I'm not usually the sentimental one here, but... we're here for you.
"

–Rebecca to Simon, Major Arcana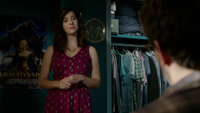 After noticing Simon's strange behavior for days, Rebecca finally became concerned enough to share her worry with their mother when Maureen called to tell her that she thinks he may be on drugs. She and Elaine tried to talk to him about it, but when she got into an argument with her mother during the intervention, Simon became furious and accidentally smashed his desk in half, surprising his mother and sister. They later returned to give him dinner, only to find his room trashed and empty. Rebecca found his window wide open and assumed he left the house through it.[3]
Some time after Simon moved out of the house, their mother tried to set a dinner on the night Rebecca was coming home for the weekend. Though Simon failed to come,[4] he moved back in the next day.
She went to his room and was excitedly hugged by Simon, surprising her. When she noted that the room stunk and was too dark, she opened the curtains to let light in, making Simon, whom she didn't know had become a vampire during their time apart. She immediately became suspicious of his odd behavior. She spotted a thermos in his room and for a while thought that he had begun drinking as well, before she opened it to find blood, which Simon claimed was for the band. She called him out for the "crazy" behavior and told him to get it together before proceeding to flush the blood down the toilet, with Simon unable to follow her because of the sunlight coming into their house through the windows. She also told their mother about the blood.[2] She and Elaine later found out about him being a vampire, or that he was drinking the blood of a rat, and were made to forget by Raphael Santiago.[5]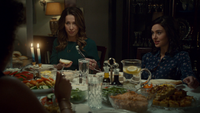 For the Yom Kippur dinner that year, they were joined by her grandmother Helen and Maia Roberts, who introduced herself as Simon's girlfriend. Rebecca asked Simon about his band and if they were no longer doing the "fake blood" shows. The family was charmed by Maia; Rebecca observed the pair closely and, upon noticing their closeness, took it upon herself to grill them about their relationship and later embarrassed Simon by bringing up his phobia of jellyfish. Elaine stopped them to initiate their family tradition and shared that she hoped to atone for her relapse in drinking and how it was hard on all of them.[6]
Bitten
One evening while Rebecca was home with Elaine, a woman named Heidi McKenzie, claiming to know Simon, invaded their home and tied them down in the dining room. Heidi called Simon, blackmailing him into coming. When Simon arrived, Heidi told them that she and Simon were both vampires, which Simon confirmed. Elaine and Rebecca both remained dubious and scared. To prove it to them, Heidi cut Rebecca's neck with a knife in a small line, letting her bleed to entice Simon. Heidi released her shortly after and told her to go to Simon. Rebecca approached Simon and tried to talk him down, only to further provoke and aggravate his hunger. When she got too close, Simon lost control and fed on her until she lost enough blood to lose consciousness, and Heidi left. Two more people arrived; Isabelle Lightwood was able to stop Simon from feeding on her, just at the right moment and she was kept alive.[7]
Rebecca was rushed to the hospital after. When she woke up, Simon was there, and though she was momentarily disoriented, she quickly remembered that night's events. Rebecca began crying and asked about Elaine. She then asked when she was going to Turn into a vampire herself, believing it to be the way it would work based on YA novels she'd read. Simon told her that she wouldn't and told her of the horrific process that would need to happen for someone to Turn, making Rebecca realize that Simon must have gone through it, including death, without their support. Rebecca put two and two together and realized that his behavior from before was due to his change.
When Simon suggested using his encanto to make her forget about him being a vampire, Rebecca asked him not to because she wanted to be there for him and told him that she stilled loved him. When she found out that Elaine did not take the revelation well, she asked what they were going to do about it; Simon responded to it by using his encanto on their mother to make her think he was dead.[5]
Appearances
Trivia
References
Community content is available under
CC-BY-SA
unless otherwise noted.