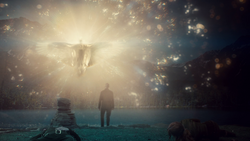 Raziel is the patron angel of the Shadowhunters.
History
Creating the Nephilim
Raziel is credited as the creator of the race of Shadowhunters to combat the demons in their world. Raziel bestowed upon them the Mortal Instruments,[1][2] along with a hidden country and the ability to use certain angelic runes. Among this is the Mortal Cup, from which he had them drink his blood, letting all Shadowhunters, even those descended from the first ones, have a bit of his blood running through their veins.[3] The first Shadowhunters who drank his blood had a special connection with him that gave them visions, a form of distant communication with the angel.[4] Raziel granted their kind the ability to once again summon him through a ritual involving the Mortal Instruments, and promised to grant one wish—any wish—they asked of him then.[5][6]
Summoned by Valentine
"
That is not Heaven's wish. But thou who spills thy blood, thou shalt compel from me an action.
"

–Raziel, Beside Still Water
For centuries after he created the Nephilim, he was undisturbed, with the Shadowhunter's ruling body the Clave decided to save the wish for dire times.[7]
In 2016, Raziel was summoned by Valentine Morgenstern with the Mortal Instruments to compel the one granted wish from him. Valentine demanded the immediate destruction of all demon-blooded creatures, demons and Downworlders alike, along with their protector Shadowhunters. Though Raziel made it clear that Heaven did not agree with Valentine's ideals, he had been compelled and would be forced to comply. When Clary killed Valentine, however, Raziel granted the wish to Clary instead. The girl asked Raziel for Jace Herondale, who had just been killed by Valentine, and Raziel granted the request, bringing him back to life.[8]
Appearances
Etymology
Raziel (Hebrew: רזיאל) is an Aramaic name meaning "God is my secret", or "Secret of God". It is also the name of an archangel within the teachings of Jewish mysticism.
Trivia
See also
References