SPOILER WARNING: Plot details follow. Caution is advised!
Maxwell "Max" Lightwood is the youngest child of Maryse and Robert Lightwood and the brother of Alec, Isabelle, and the adoptive brother of Jace Wayland.
Biography
Punishment
While studying at the Mumbai Institute, Max claimed to have been hungry and drew the Heat rune, mistaking it for the Nourishment rune—two runes that look nothing alike. His rune started a fire, and Robert promptly arrived to pick him up and bring him back to the New York Institute. Upon arrival, he was welcomed by his older siblings, Alec and Isabelle, and Alec teased him for his mistake. Robert sent him up to his room to look up the Extinguish rune in the Gray Book.
Later, Isabelle and Max reviewed rune flashcards in an office and he once again knowingly mistook the Heat rune for the Nourishment rune. He is then sent out by Maryse so she could speak to Isabelle alone, for which Max complained about being excluded from important conversations.[3]
Having had his stele confiscated for the Mumbai incident, Max sought Alec's help to get it back. Alec told him that he'll find a way to give it back to him only if he behaved during the stay of envoy from the Clave.[4] For his simulator training sessions, Max had exemplary scores,[2] which he received medals for, but he once hacked a simulator of his training session and beat it, to the point where they had to write a new code for the simulator. Nonetheless, Max was confident enough in himself that he considered himself the best in his class,[5] particularly in his tracking skills.[2]
Coming of age
Max eventually returned to Idris for his training. While there, he witnessed the regular fights his parents got into. Soon, he passed his trials and was finally a candidate to receive his first rune with a Rune Ceremony. He and Maryse returned to New York for his ceremonial party, which was to be planned by Alec—as the eldest male in the family in Robert's place, who was preoccupied with business in Idris.
Alec's boyfriend, the High Warlock of Brooklyn, Magnus Bane threw a Spanish-themed party for Max at his apartment, in commemoration of his cerremony. While there, Max, having heard his parents discuss Jace as well as Magnus's relationship with Alec, Max asked Magnus to show his warlock mark then asked him about his demon heritage, and he told Jace that he wasn't his brother.
At his Rune Ceremony, Max then bravely bore the pain and received his first rune, the Angelic rune.[1] As with most Shadowhunters, receiving this ceremony meant it was time for Max to be treated like a soldier.[2] Alec assigned Isabelle to train Max, and the boy was eager to start training and go on missions to prove himself as a real Shadowhunter. Max stubbornly tracked Isabelle to her mission, during which he was captured by Kaelie. Max remained brave through the endeavor and tried to fight back and remain alive long enough until Isabelle, Raphael Santiago, and Meliorn arrived to save him.[5]
Max was not deterred by the close encounter with death whatsoever, and quickly got in trouble again by nosing in his father's business and learning a secret the Clave was keeping through a series of fire-message exchanges with the Inquistor: that the Soul-Sword was missing. When Robert caught him, Robert screamed at him, which upset Max enough to miss a training session with Isabelle.[6]
Max continued his training with Isabelle and her new friend Sebastian.[7] Isabelle, still incredibly protective of her little brother and still shaken by Kaelie's attack, was furious when she found out that Alec approved him for his first field mission and tried to hinder this and extend Max's training. Max had a training session with Isabelle's vampire friend Simon Lewis, who was able to convince Izzy to trust in her brother's abilities.
After Max overheard the elder Shadowhunters discuss their search for Clary's brother, Jonathan, he once again got involved in an effort to prove himself. After finding a hair in Jocelyn's box of Jonathan's things, he tracked him to Sebastian and confronted him,[2] even attacked him, only to suffer from a head injury. Sebastian's further attempt on his life to keep his secret was interrupted by Clary's arrival, and when Sebastian left, Max managed to crawl to Isabelle's room with the box, where he was found unconscious. His injury was severe enough that he got into a coma, and his recovery required a procedure that could kill him. When Max woke up, his first question was about the capture of Sebastian. Everyone laughed in response, and Maryse asked him if that was his concern despite having gotten so close to death.[8]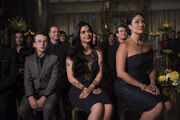 Max went on to live in the Los Angeles Institute with his father, who'd been assigned there as an instructor.[9] While there, Max excelled in his training and was the top cadet in his class. When Jonathan Morgenstern, now in his true form, attacked the Institute and killed all of its residents, Max tried to help Robert fight him off. They were spared only so that they could deliver a message to Clary. After Jonathan's defeat, Max and Robert returned to the New York Institute to attend Magnus and Alec's wedding.[10]
Personality
Max is very curious and seemingly fearless—almost dangerously so, as this bravery pushes him to charge into risky situations. Since he was young, Max has been annoyed at being excluded from Shadowhunter "adult" business because of his age and the protectiveness of the people around him.
Appearances
Trivia
His casting side described him as the Lightwoods' precocious little brother. He was also set to be nine (9) years old in his debut episode, at least for the writer of the episode.[11]
References
Community content is available under
CC-BY-SA
unless otherwise noted.