SPOILER WARNING: Plot details follow. Caution is advised!
"
Once I saw Valentine for who he really was, I couldn't believe what I had done. I vowed to devote the rest of my life to the Clave. But the charges against me are just.
"

–Maryse about her punishment and exile, What Lies Beneath
Maryse Lightwood is the mother of Alec, Isabelle, and Max Lightwood and the adoptive mother of Jace Herondale. She formerly ran the New York Institute with her husband Robert.
Biography
Circle days
"
The Clave's always had its faults. My generation nearly destroyed everything in our passion to fix it.
"

–Maryse, What Lies Beneath
Maryse was deeply captivated by Valentine Morgenstern. She joined the Circle and became fully loyal to his cause, helping him recruit several members, including her eventual husband, Robert. Maryse planned the bloody details the Uprising with Valentine. Maryse left the Circle only when she knew that they were doomed, but came to regret her actions when she realized Valentine's true disposition. In an attempt to make up for her mistakes, Maryse decided to dedicate her life in service of the Clave.[1]
Valentine's return
"
Life is not about what you want to do, it's about what must be done.
"

–Maryse chastising the young Shadowhunters at the Institute, Moo Shu to Go
When Clary Fairchild, the daughter of Jocelyn and Valentine, was brought to the Institute, Maryse and Robert were in Idris. Their children, whom they left partly in charge of the Institute, undertook missions which were unsanctioned by the Clave on Clary's behalf, which were eventually reported to them in Idris.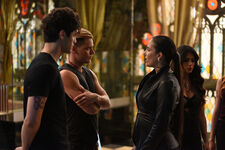 Maryse eventually returned to the Institute, while Robert took a side-trip to Mumbai to pick up Max. As the Seelies, particularly its queen, had stopped communicating with the Clave, it became enough cause for concern that Maryse sent Jace with Isabelle to talk to their source among the Seelies, Meliorn, but not before accusing Isabelle of potentially telling Meliorn anything that could have offended them. Supposedly disappointed in Alec's lack of control during her absence, she tasked him with looking after Clary.[2]
After Valentine took the Mortal Cup and Jace, Lydia was replaced by another Clave representative, Victor Aldertree. Lydia suspected that Maryse had gone to the Clave behind her back. Throughout the initial search for Jace, Maryse helped Victor, consequently clashing with her own children.[3] Maryse returned to Idris afterwards.[4]
During their stay in Idris, Maryse and Robert's fights became more frequent. For Max's Rune Ceremony, she and Max returned to New York. She reconciled with Jace and admitted to him and Alec that Robert was having an affair.[5]
When Alec established the first meeting of his Downworlder-Shadowhunter cabinet, Maryse came to the Institute to support him. She also sought to make amends with those she had hurt in the past, including Luke, whom she had been friends with during their days together in the Circle.
During a conversation with Isabelle, Maryse found out that her daughter had known about Robert's affair for a long time but kept the burden of knowing it to herself, and Maryse sympathized. Isabelle suggested that she leave him, and Maryse told Isabelle that she deserved to be happy too and she hoped that she would fight for love the way Alec did. Isabelle also came clean to her about her addiction to yin fen, and Maryse blamed herself for being too hard on Isabelle.[6]
Punishment
Maryse and Robert eventually planned to finalize their divorce. Meanwhile, because of the coup d'état staged by Malachi Dieudonné—the former Consul and a fellow ex-Circle member who turned out to be a traitor still loyal to Valentine—Maryse and all ex-Circle members were reinvestigated. Based on her actions during the days of the Circle, Maryse was reclassified as a traitor, and it was decided that she would be stripped of her runes and exiled from Alicante as punishment.
Upon finding out, Maryse sent a fire-message to her children informing them that she would be dropping by to have dinner with them. Jace and Isabelle were unable to make it, and she instead had dinner with Alec and Magnus. Maryse told Alec about her punishment, and when the distraught Alec tried to say he would fight for her, even if it meant stepping down as head of the Institute, she refused. She explained to him that she knew her punishment was just for her past deeds, and after the dinner, she thanked Magnus for loving Alec, apologizing for her past prejudices.[1] Maryse was deruned shortly after.
Apparently, Maryse immediately looked for and found a place to stay, with looking for a job her next priority. Because she'd been excommunicated, Maryse was barred entry into the Institute by the guard until Alec arrived at the entrance to let her in, letting the guard know that Maryse would always be welcome in the Institute as long as he was in charge. She kept her composure in front of Isabelle and Alec, but finally broke down while alone with Isabelle. She insisted that she would be fine and shifted the attention to Isabelle. She noticed Isabelle's smile after receiving a message from Charlie and asked to meet him, and Isabelle appeased her by inviting him to the Hunter's Moon, where they, along with Jace and Alec, had drinks later that evening.
At the Hunter's Moon, Luke arrived and greeted them. The others left the table with an excuse, leaving the two alone to catch up. Luke tried to make Maryse feel better by sharing his experience when he'd first stopped being a Shadowhunter and promised that things would get better, and told her that he'll be around if she needed help adjusting. Luke then pointed out amusingly that it had been the first time she'd seen her with her hair down in twenty years, since the Accords Ball in Idris in their youth, and that she still looked as lovely. They spent more time together before Luke was called away by his work partner.[7]
When Clary was arrested in Idris, Luke contacted her, among others, in hopes of getting an updated about Clary as everyone else outside the country was being shut out. Maryse herself, being in exile, doubted she could get information directly, but she decided to contact Annamarie Highsmith, the woman Robert left her for, and found out from her that Clary was on trial. When Luke expressed her desire to break Clary out of the Gard, Maryse tried to talk him out of it.[8]
Eventually, she found out from Alec that Clary was broken out of prison by Jace and was back in the city. Maryse tried to call Luke several times, and when she couldn't reach him, she went to his precinct to tell him the news. They followed Clary's trail and found traces of her blood that Clary left for them, leading them to a high-rise mundane building. When Luke and Alec made plans to attack, Maryse asked him to bring a blade for her. Alec, and even Luke, asked her to sit the battle out, reminding her that her children still needed her.[9]
Personality
"
Sometimes our angelic duty seems to... overshadow everything else. We forget we're human, too.
"

–Maryse, The Fair Folk
While Maryse was the head of the New York Institute, she was feared and greatly respected. She was also hard-as-nails, by-the-book, and always looking down on faults and anything that could bring shame to their family. As a mother, she loves her four children. However, during her time as the head of the Institute, while showing the occasional open affection towards them—except Isabelle—she was first and foremost their superior and demanded respect and quasi-perfect behavior at all times. For a long time, she was distant from her daughter Isabelle, whose actions she disapproved of.[2]
Maryse is willing to make efforts in repairing her wrongs, putting pride aside in order to make amends with those she loves.[6][1] A while after she was let go as the head of the Institute, and with it her responsibilities as the leader and matriarch of her family, Maryse's walls began to crumble and her affection for her children began to show more than her severity and strictness. After the betrayal of her husband, she is more in touch with her feelings as well as others and seeks to be better and support her children in any way she can.[5][6][1][7]
Appearances
Trivia
Robert proposed to her in Barcelona.[5]
References
Community content is available under
CC-BY-SA
unless otherwise noted.