SPOILER WARNING: Plot details follow. Caution is advised!
Magnus' mother was an Indonesian woman who gave birth to Magnus Bane as a result of an encounter with a demon.
History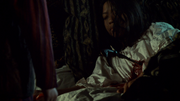 At one point, Magnus's mother was unknowingly tricked into sleeping with a demon—specifically, the Greater Demon Asmodeus.[1] From this encounter, Magnus, a warlock born with eyes of a cat. It would only be nine years after she gave birth to him when she realized what his cat eyes meant—that he was a child of a demon—and she was horrified at her realization. Ultimately, she committed suicide, killing herself with a keris.[2][3]
Magnus soon found her, and when her husband found them, he blamed Magnus and shouted at him, causing Magnus to lash out and kill him.[3]
Appearances
References
Community content is available under
CC-BY-SA
unless otherwise noted.