SPOILER WARNING: Plot details follow. Caution is advised!
"
You know, the day you got your butterfly tattoo... I wanted to tattoo that Sanskrit on my arm, because I thought it looked cool. You gave me crap about it for not knowing what it meant. "Meaning matters," you said. That's why I joined the Praetor. Because things matter to me now. People... their troubles... their pain. I know you don't want me around. But you matter to me. And you always will.
"

–Jordan to Maia, A Heart of Darkness
Jordan Kyle was a werewolf, a member of the Praetor Lupus, and the ex-boyfriend of Maia Roberts.
Biography
History
Jordan's family moved to the States from Brisbane when he was eleven. He wasn't pleased about the move, so his uncle gave him a Les Paul Custom guitar to make him feel better.
Eventually, he ended up in New Jersey where he met Maia Roberts.[1] He was Maia's first serious boyfriend, and the pair was happy for a time.
At one point, Jordan was scratched by what they believed to be a stray dog. It turned out to be a werewolf, and he inevitably Turned into one himself. The pains and stress and that came with first Turning got to him, and he uncontrollably took out his anger and aggression on Maia. He became possessive and selfish, no longer supporting her own dreams in lieu of their plans. Eventually, Maia broke up with him. One night, Jordan saw Maia on a date and became jealous. He was unable to control his Turn and unconsciously attacked and scratched her, embedding deep claw marks on the side of her neck that later Turned her into a werewolf like him. Jordan Changed back to his human form when she begged him to stop and fled after the attack.[2][3]
Jordan had been too ashamed to face Maia after what happened, and he has regretted it ever since. Hoping to find a way to redeem himself and lessen his guilt in some way, he joined the Praetor Lupus, to help other new Downworlders like he needed help then.[3]
Roommate
When the vampire Simon Lewis unleashed a dangerous but unidentified blast on Glenn, Luke Garroway contacted the Praetor to help Simon. Jordan was assigned to him, sent to assist, observe, and keep Simon from hurting himself and anyone else because of his mysterious mark.[4] Jordan found out too late that Simon was dating Maia, but even then wouldn't have had a choice but to follow his orders.[3]
As a solution to Simon getting kicked out of his makeshift room at the New York pack territory, Jordan and the Praetor set up an apartment in Queens and designed the room into one that would be appealing to Simon.[4] While on his bike, Jordan intentionally almost ran into Simon on the street. Because he fell and seemingly got hurt, Simon offered to drive him to his apartment and introduced himself as Kyle. Once there, Simon was impressed by his apartment. Kyle soon told Simon that his roommate had just abruptly moved out and was looking for a roommate. He offered the room to Simon, who, though very interested, was skeptical because of his vampirism—and Mark mystery—issues. Kyle continued to tempt Simon, keeping the offer open.
Simon returned later that day and immediately began moving his things in. When Kyle pointed out Simon's mini-fridge and Simon tried to explain, Kyle told him to stop and that he won't touch his things, pleasing Simon. Kyle then asked Simon to give him a heads up if he ever planned to bring his girlfriend home so he could make himself scarce. Just as he'd suggested earlier, the pair got along quickly and bonded over video games. When Luke called asking to see Simon the next day, Kyle reminded him to keep his distance so he could do his job, and that Simon belonged to the Praetor now.[1]
As part of his protective measures, Kyle cancelled a gig booked by Simon at a bar. The Shadowhunter, fulfilling a promise to Simon to help him figure out who was messing with him, went to his apartment and was immediately suspicious of Kyle. He snooped around the apartment, questioned the seemingly too perfect scenario of their meeting, and finally went into Kyle's room where they found wolfsbane. When Kyle arrived, Jace revealed to Simon that he was a werewolf. Kyle tried to explain but Simon was furious by then and left. Simon returned shortly after to get his instruments for his reinstated gig and proclaimed that if he wanted to protect him, it would be on his terms.[4]
In an effort to figure out the nature of his mark, Kyle volunteered to be on its receiving end, theorizing that if Simon evaded an attack, the mark won't be triggered which turned out to be accurate. When Simon invited him to lunch the following day to meet Maia, Kyle punched Simon to make the Mark react to him in hopes of changing the topic, but when Simon asked again, he made an excuse about needing to report back to the Praetor.
The next evening, Simon called him about a rogue, new vampire Heidi McKenzie who displayed dangerous tendencies. Kyle and two other Praetors came to Heidi's hiding place and ambushed her, while both Kyle and Simon trying to calmly explain that they were only going to have her rehabilitated.[5] Kyle tried to reassure Simon, who was guilty about blindsiding Heidi and letting the Praetor take her, that it was the right decision.[5][3]
Reunited with Maia
"
Look, I'm sorry. I guess I just want you to know that I'm not the same guy that left you alone that night in the rain.
"

–Jordan to Maia, A Heart of Darkness
Unexpectedly, Maia arrived at their apartment to bring blood for Simon later that night, revealing to Simon that he was Maia's ex. Though he planned to leave so as not to bother Maia, risking punishment for breaking oath, but Maia demanded that he stay and see through his mission of helping Simon—instead of running like he did with her.[3]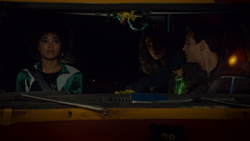 When Simon and Maia went to hunt down Lilith, Jordan insisted on joining them as backup, and Maia agreed. Jordan showed concern about her during their time together, unable to hide the fact that he still cared for her. At the abandoned Church of Talto, when he was alone with Maia while Simon was out making a call, Maia snapped at him in frustration, calling him out for acting like he'd changed. This prompted Maia to leave town,[6] and for Simon to further be irritated at him as he witnessed their conversation.
One morning, the Praetor's archivists finally figured out that the Mark on Simon's head was the Mark of Cain and Jordan immediately shared this with him. He went to obtain some blood for Simon, who'd neglected to drink or get more blood, but found him missing upon his return, more worrying because he received word that Heidi had escaped. Unable to find his scent on his own, he went to the New York Institute to ask Simon's friend Isabelle Lightwood for help in tracking Simon. They found him at the home of Simon's family feeding on his sister, but he and Isabelle arrived just in time to stop him before he could kill her. Isabelle stopped Simon, and Jordan released Simon's mother.[7]
Skills and abilities
Lycanthropy: As a werewolf, Jordan has the ability to transform into a wolf. He had enhanced strength, speed, and accelerated healing ability.
Appearances
References
Community content is available under
CC-BY-SA
unless otherwise noted.