SPOILER WARNING: Plot details follow. Caution is advised!
Imogen Herondale was the Inquisitor of the Clave, an imposing and intelligent woman who served as the head of the Shadowhunter legal system. She lived by the Shadowhunter creed, "the law is hard, but it is the law." She was part of the Herondale family—one of the oldest and most revered in the Shadow World.[1]
Biography
Stolen light
Imogen deeply loved her son, Stephen Herondale. On the night he died, Imogen, knowing Valentine had something to do with his death, sent him a fire-message, threatening him with his karma, or her vengeance. His death hardened Imogen's previously warm persona, making her a cold and stern Inquisitor from then on.
Her daughter-in-law Céline Herondale apparently took her own life after; she had been nine months pregnant, and her body was ravaged by werewolves, leading her and everyone else to believe that Stephen's only child—Imogen's grandson—was eaten alive.[2]
New York
Imogen oversaw the Isabelle Lightwood's trial at the New York Institute, after the latter came under suspicion of releasing Meliorn while he was under the Clave's custody. During the trial, the warlock, and Isabelle's defender, Magnus Bane stood up to her, and Isabelle was proclaimed innocent of reason.[3]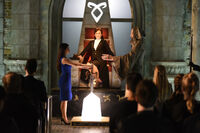 Imogen returned to the Institute to momentarily take over while a new head, to replace Victor Aldertree who was facing reprimand in Idris, had yet to be named. She came at a crucial time: Valentine had been captured and was kept at the Institute for interrogation about the whereabouts of the Mortal Cup and the Soul-Sword. During this time, Valentine taunted Imogen that she hated him because of what happened to her son, Stephen.[4] Imogen also oversaw training sessions between Jace and Clary in an effort to understand the abilities they have due to their excess angel blood.
Under their noses, Valentine was switched out of his body and into Magnus's, and vice versa. No one believed Magnus's pleas, and Imogen went on to torture "Valentine" for information. Later, Valentine himself, in Magnus's body, Projected himself into the Institute in time to stop his body's execution. He revealed that Jace was Stephen's son—making Jace her grandson—and bartered Jace's safety for his body's freedom. She agreed, but the other Shadowhunters were able to secure and recapture Valentine after the body switch. With Jace now free, Imogen approached him, kindly, unlike their past encounters, and gave him a Herondale family ring—the one that Valentine had stolen from Céline. She welcome him as a Herondale, telling him of his rightful family's power.[2]
During their short time together, Imogen told Jace bits about his parents. Before she returned to Idris, she passed the title of head of the Institute onto Jace, obviously driven by the newfound knowledge that he was her grandson, despite Jace's objections. He eventually named Alec Lightwood as the head of the Institute, just as he initially recommended to Imogen.[5]
Victory
After Clary Fairchild killed her own father, Valentine, Imogen headed the ceremony to honor her, as well as bore witness to her Rune Ceremony.[6]
Fall
Jace's friends Clary, Alec, and Isabelle Lightwood later came to her in Alicante, seeking help in freeing Jace from Lilith's control. Imogen agreed to help them with a Malachi Configuration, and after she was able to help them get it from the Armory, the mind-controlled Jace greeted her in her office. When he noticed Imogen trying to reach for a seraph blade, he went on to fatally stab her and then cut off her thumb, needing her clearance—which her thumbprint would give—to gain access to the Cemetery of the Disgraced. Just before she died, she managed to send a fire-message to Alec about Jace.[7]
Appearances
References