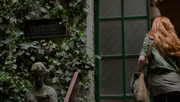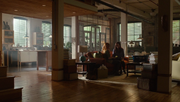 Greenpoint Antiquities was a buy-and-sell antique shop located at Greenpoint, Brooklyn, New York City that used to be run by Jocelyn Fray and operated by her assistant, Dorothea Rollins.
Overview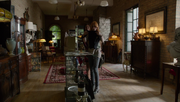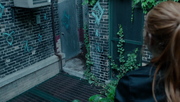 The store carried various antiques, including: weaponry, jewelry, pottery, literature, and fine art,[1] many of which were sold to them by Camille Belcourt and her clan of vampires.[2]
The floor above the store is a residential apartment.[3] For years, the building was covered with various protective runes and wards.[4] Inside, the walls are decorated by artwork—paintings and drawings—made by Clary.
History
Jocelyn and Clary used to reside in the apartment above the store. The store used to be manned by Jocelyn, Dot, and another warlock named Elliot Nourse, until the latter opened up his own shop.[5]
In 2016, the store and loft was trashed by Circle members who went through their things in search of the Mortal Cup, and was damaged further in the ensuing battle between the Circle members, Jocelyn, and Dot. Jocelyn also burned down Clary's room to prevent anyone from being able to track her through her things.[3]
Since the attack, the shop and loft have been ransacked, abandoned, and burned, but Dot put a glamour over the house so that the mundanes wouldn't be alerted to its state. Luke Garroway came some time after to retrieve some of the Frays' possessions.[6] Clary and Simon later returned to search the house for a small box of things that Jocelyn used to cry over, and Simon found it beneath a loose floorboard in the bedroom.[4]
References