Daniel Quinn was a vampire and a member of the Brooklyn vampire clan.
History
As a clan member, Quinn was a follower of his clan leader, Raphael Santiago. However, when he found out that Simon Lewis was a Daylighter,[1] his allegiance quickly shifted and he and other vampires went behind Raphael's back and told Simon that they wanted to be a part of his clan; Simon had no interest in heading up his own clan and declined.[2]
When Quinn found Simon at the Hunter's Moon, he ordered him a shot of plasma and invited him to a bleeder den, where mundanes willingly came to get fed on by vampires. There, Quinn hooked Simon up with a frequent mundane patron, Heidi. After Simon left, Quinn fed on Heidi but was unable to control himself and drained her of blood, killing her. When Simon found out, he confronted Quinn at the den; the two faced off in a battle and Quinn was staked and killed. To clear Simon's name, Raphael told the detective Ollie, under the influence of his encanto, about Quinn but told her that he had disappeared and would never be found.[3]
Appearances
Trivia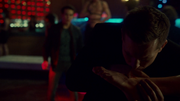 Quinn liked to drink blood from the person's feet.[3]
References
Community content is available under
CC-BY-SA
unless otherwise noted.