SPOILER WARNING: Plot details follow. Caution is advised!
Catarina Loss is a powerful warlock, a healer who works as a nurse at a mundane hospital, and a good friend of Magnus Bane.
Biography
Known history
Catarina and Magnus, possibly with many other warlocks, once bottled Malta with wards during a demon attack.[1]
When Magnus and the Shadowhunters of the New York Institute were trying to find the warlock who made the potion for Jocelyn that put her in a deep slumber, Catarina was included in the final list of warlocks, along with Tessa Gray and Ragnor Fell, whom they suspected were powerful enough to be capable of doing it.[2]
When the Shadowhunters needed Camille Belcourt in custody, the vampires in charge of finding her, Simon and Raphael, coordinated with Magnus to capture her. Magnus briefly sent them on a wild goose chase by sending them to Catarina for ingredients he didn't need so he could have some time to speak with Camille alone.[3]
Caring for Madzie
Magnus later sent the young and orphaned warlock Madzie to her.[4] She began to take care of Madzie, essentially adopting the girl.
When Magnus, as the High Warlock of Brooklyn, gathered the warlocks of the city to put up wards around New York to keep Valentine in, Catarina was among those who answered the call. She went to Magnus's loft and brought Madzie with her.[1]
Corrupted ley lines
Magnus was dismissed as the High Warlock of Brooklyn as punishment for his deal with the Seelie Queen. He called her after finding out, and she worried about him, knowing how much the position had meant to him.
When Tim Dempsey, a coworker at St. Ambrose Hospital, was possessed by a demon, Shadowhunters from the local Institute came to ask her about him. Catarina took the opportunity to ask Alec Lightwood, Magnus's boyfriend, about how Magnus was doing and told him how Magnus truly felt about being replaced.[5]
Catarina and Madzie attended the party thrown by the new High Warlock Lorenzo Rey, where Magnus was set to formally pass on the baton. She and Magnus were together, and Madzie with Alec, when the ley lines beneath them was briefly corrupted, causing their magic to go haywire and their glamours to fail, revealing their warlock marks. When she tried to heal a mundane patient with her healing magic, when the ley lines coincidentally became corrupted again, she was unable to control her power and couldn't stop, creating a power surge that almost endangered Mr. Harris and affected a patient on a vent on an upper floor. Catarina was racked with guilt for the incident; fortunately, Magnus and Alec were able to fix the corruption after.[6]
Catarina helped Magnus look for a way to free Jace Herondale from Lilith's influence. She tried to convince him that he wasn't to blame, and that he was powerful enough to undo the effects of the elixir he unwittingly made for Lilith that was partly responsible for Jace's state of mind.[7]
Skills and abilities
Immortality: As with all warlocks, Catarina is immortal. Physically, she does not age.
Magic: As a warlock, Catarina has access to magic. She is adept in healing magic and uses it to treat her mundane patients, among others. She also uses her glamour magic to hide her warlock marks: her blue skin and white hair.[8]
Appearances
Trivia
Catarina apparently teaches ceramics on the side.[9]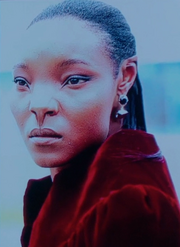 The character's first appearance was through an onscreen photo in the episode Malec showed Catarina having pointed ears and a distinct nose. Because the actress has not yet been cast then, this cameo appearance was subject to change, and it was for the character's first actual appearance in Season 2 (and even in her first un-glamoured appearance in Season 3).
References
Community content is available under
CC-BY-SA
unless otherwise noted.